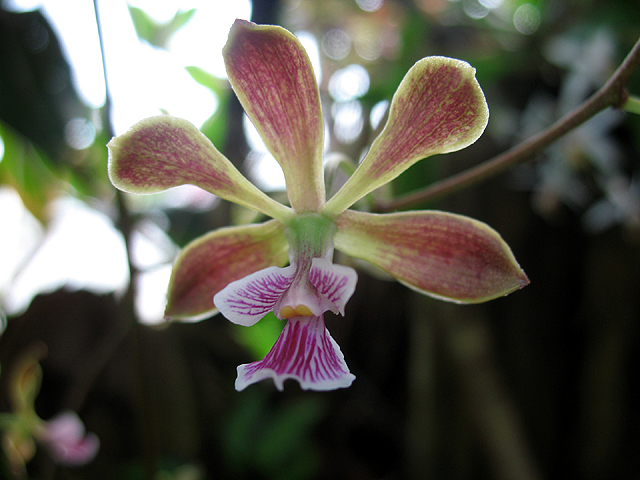 Exposure Encyclia megalantha
continental : This plant favours very bright places, but it doesn't prefer direct contact with sunrays.
The Encyclia megalantha is a delicate plant, which fears harsh temperatures; during the Summer it can be grown in a garden or on the terrace.
alpine : We suggest avoiding direct contact with solar rays; let's locate the the Encyclia megalantha in a bright, but shaded, place.
The Encyclia megalantha is a delicate plant which feels can't stand the cold weather; during the summer season it can be placed outdoors, sheltered by the wind.
mediterranean : The Encyclia megalantha needs to be positioned in a very bright place, but far away from direct solar rays.
During the hot season the the Encyclia megalantha can be grown outdoors, even if the minimum temperatures should always be above 15įC.
Watering Encyclia megalantha
continental : Letís try to always keep the growing substratum of the the Encyclia megalantha damp, watering very frequently with 3-4 glasses of water; if the weather is very hot and dry we even water every 0-1 weeks.
alpine : As the hot season arrives, these plants need abundant and regular watering, using 2-3 glasses of water, which keep the soil cool and damp; letís water every 1-2 weeks, or even more often if it is very hot.
mediterranean : The Encyclia megalantha loves damp and cool soils, therefore it is necessary to water it very often, keeping the soil slightly damp; in any case it is always advisable to avoid water stagnation and excess watering: it is best to water every 0-0 weeks.
Fertilization Encyclia megalantha : Periodical fertilizations continue during the summer; we should always use a specific fertilizer for orchids, to add to the irrigating water every 15-20 days. Remember to avoid leaving the roots soaking in the fertilizing solution for a long time.
Treatments Encyclia megalantha : During this time of year, and only when the insects are present, specific insecticide treatments are applied; we must pay attention to the flowers, avoiding vaporizing them.