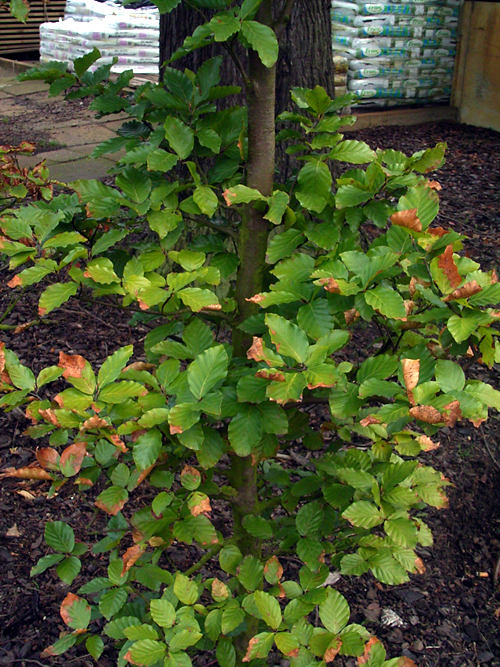 Exposure Fagus sylvatica
continental : Locate the The Fagus sylvatica In a sunny place.
The Fagus sylvatica is a very rustic plant, that can bear very harsh temperatures; it is advisable to grow it in the garden.
alpine : Plant which needs at least a few hours a day of solar light.
The Fagus sylvatica is surely a rustic plant, itís possible to grow it in the garden year round.
mediterranean : We suggest placing the The Fagus sylvatica so that it can receive at least a few hours of direct solar rays.
The Fagus sylvatica is a rustic plant, which can be planted in the garden during the whole year.
Watering Fagus sylvatica
continental : Letís try to always keep the growing substratum of the The Fagus sylvatica damp, watering very frequently with 6-7 buckets of water; if the weather is very hot and dry we even water every 1-2 weeks.
alpine : As the hot season arrives, these plants need abundant and regular watering, using 5-6 buckets of water, which keep the soil cool and damp; letís water every 2-3 weeks, or even more often if it is very hot.
mediterranean : The Fagus sylvatica loves damp and cool soils, therefore it is necessary to water it very often, keeping the soil slightly damp; in any case it is always advisable to avoid water stagnation and excess watering: it is best to water every 0-1 weeks.
Fertilization Fagus sylvatica : In the summer letís fertilize only newly planted trees, enriching the soil with manure or humus, therefore improving its mixture; as far as the plants which have been growing for long, we can avoid fertilizing them during this time of year.
Treatments Fagus sylvatica : During the hot months attacks by ticks and rust are likely; the treatments should be applied during the coolest hours of the day. If possible, we suggest avoiding treatments with wide-range products, which could kill the populations of useful insects: letís favour specific products.