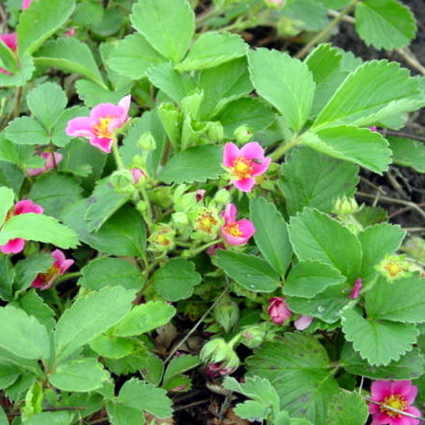 Temperatures Fragaria ◊ ananassa
continental : These plants prefer a sunny location, where they can enjoy direct solar rays even throughout the whole day,
These plants are grown in the garden year round because they are rustic.
alpine : Let's grow the the Fragaria ◊ ananassa in a sunny place, with direct solar light.
These plants are rustic, they can stand the heat and cold, therefore they can be planted outside.
mediterranean : Plant which needs a few hours a day of solar light.
These plants can stand the cold weather, they can be grown as garden plants during the whole year.
Irrigation Fragaria ◊ ananassa
continental : Water regularly, every 2-3 weeks, wetting the soil deep down, but waiting for the substratum to dry completely between a watering and the other; avoid leaving stagnant water. Usually 1-2 buckets of water are used.
alpine : We suggest regular watering with 0-1 buckets of water about every 3-4 weeks, waiting for the soil to dry between one time and the other.
mediterranean : Every 1-2 weeks we should intervene with water, irrigating the soil only if it is dry; we suggest avoiding water stagnations by using 2-3 buckets of water.
Feed Fragaria ◊ ananassa : These plants need a good quantity of mineral salts, which they find by spreading their roots in the ground; for a balanced development letís use a slow release fertilizer, specific for fruit plants.
Adversity Fragaria ◊ ananassa : The treatments against insects and fungus should be used only when the parasite is on the plants; remembering to pass up treatments during blossoming, to avoid harming the bees.