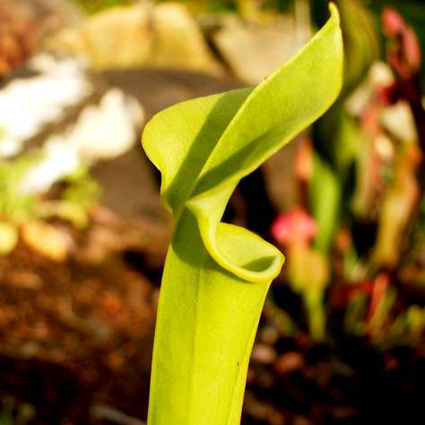 Temperatures Sarracenia flava
continental : These plants prefer a sunny location, where they can enjoy direct solar rays even throughout the whole day,
When thesummer begins we can move the the Sarracenia flava outside.
alpine : Let's grow the the Sarracenia flava in a sunny place, with direct solar light.
These plants aren't rustic, they can't stand minimum temperatures below 15įC; during the summer season they can be located outdoors, but somewhere sheltered by the wind.
mediterranean : Plant which needs a few hours a day of solar light.
These plants can be grown outdoors only during the hot season, because they canít stand temperatures below 15į C.
Irrigation Sarracenia flava
continental : During this time of year letís try to water quite frequently, but avoiding excesses; letís remember to leave the soil dry between a watering and another; typically watering every 1-2 weeks is enough.
alpine : We advise watering the the Sarracenia flava quite frequently and regularly with about 3-4 glasses of water, remembering to let the ground dry well between a watering and the other. Usually every 2-3 weeks.
mediterranean : The Sarracenia flava doesnít request much watering; during this time of year it is sufficient to wet the substratum deeply when it is dry; typically it is good to act every 0-1 weeks using about 5-6 glasses of water.
Feed Sarracenia flava : Letís avoid adding fertilizers to the irrigating water of carnivorous plants, because they dislike mineral salts in the soil.
Adversity Sarracenia flava : Carnivorous plants defend themselves from the most common parasites, which in general donít attack them; when repotting it might be necessary to treat the soil with a fungicide or against radical putrefaction.