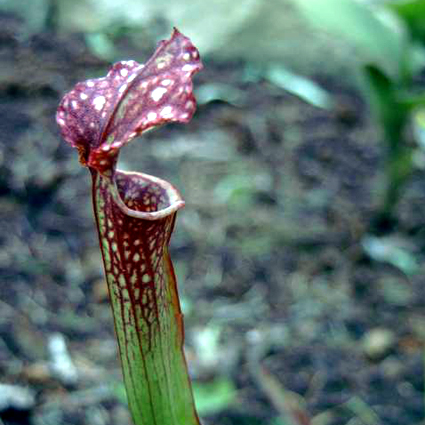 Light Sarracenia leucophylla
continental : Plant which needs at least a few hours a day of solar rays.
These plants fear the cold weather, but when the summer begins we can cultivate them outdoors.
alpine : These plants love very sunny positions, which are directly exposed to sunrays even for many hours a day.
During the summer it is possible to cultivate the the Sarracenia leucophylla in the garden or on the terrace.
mediterranean : These plants can be placed in a very bright place, possibly sunny, directly under the solar rays for a few hours a day.
We advise cultivating these plants outdoors only during the summer months, because they are seriously damaged by minimum temperatures below 15°C.
Water Sarracenia leucophylla
continental : Water every 1-2 weeks, when the ground is perfectly dry; we advise avoiding excesses when watering, although the substratum must be wet well. Let's use 4-5 glasses of water for average size plants.
alpine : Water every 2-3 weeks, leaving the soil dry for a few days; avoid surpluses. In any case it is agreeable to wet the substratum well in case of prolonged drought using 3-4 glasses of water.
mediterranean : Irrigate with 5-6 glasses of water. Watering should be carried out only when the soil has been dry for days; during this period of the year watering once or twice a week could be enough. When irrigating avoid immoderation.
Fertilize Sarracenia leucophylla : During the whole year we suggest avoiding fertilizing carnivorous plants, which dislike mineral salts in the ground; usually they're able get the mineral salts they need directly from the preys they catch.
Pests Sarracenia leucophylla : These plants usually don't need treatments against parasites; it might be advisable to treat the soil with a fungicide against radical putrefaction when we repot small plants.